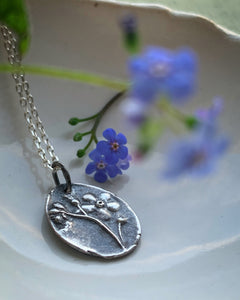 -Approx. pendant size 17mm x 13mm
-Slightly oxidized silver pendant top
-Paired with an 18" sterling silver chain
This is a made to order jewellery especially for you. Please allow me up to 10 business days to hand make your pendant and bare with me for a slight difference in shape. Each pendant is unique and imperfect in nature.
✴︎Hanakotoba
Forget-me-not is a symbol of true love and respect. When you gift someone these tiny blooms, it represents a promise that you will remember them and will keep them in your thoughts.
✴︎ Gift Wrapping 
Your jewellery will come in a box, tied with twine and a dancing leaf. A hanakotoba card will be in the box and if you wish to ship your piece as a gift with a hand written note on your behalf, simply send me a note via "Contact Us" with your order number.